On May 24, Tenaya, our 34 ft. Catalina sailboat, competed in the 2014 Swiftsure International Yacht Race. This is the largest and longest-running yacht race in the Northwest, and I believe on the entire West Coast. 184 boats crossed the start line with 1300 crew on board.
The event consists of five races, ranging from the open-ocean, overnight Lightship Classic to a half-day Inshore Classic (in which we competed) that runs up and down the Strait of Juan de Fuca. Many of the top racers and fastest boats throughout the Pacific Northwest participate.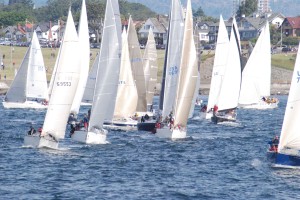 With a shoreline packed with spectators, the start off Clover Point was a sight to behold, with all the boats jockeying for favored position at the starting gun. (Being in the middle of the fray holds a more visceral feeling, however).Onboard, we were fortunate to have a crack crew, consisting of experienced racers who made all the difference in running a competitive race. We were blessed with a beautiful day and with winds a consistent 20 knots, which was perfect for driving the boat to the fullest. Tenaya handled great and was surprisingly fast when trimmed closely. On reaches, we were consistently at or beyond theoretical hull speed over the water at 7-8 kt. We averaged 5.6 kt SOG (speed over ground) for the entire race, with a current against us most of the course. Not bad. The C34 is not only comfortable, but fast for a cruising boat.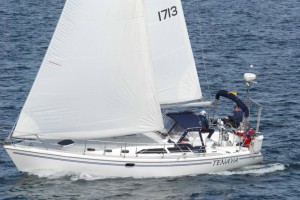 Being our first race together and in a heavy cruising boat, our realistic goal was to have a good time and not finish DFL (dead f—g last). However, we greatly exceeded that by finishing in the middle of our division, ahead of several boats (undoubtedly with experienced crews…) That was well beyond our expectations, and it was gratifying to have us all come together to achieve this.
The exceptional crew, backed by a superb shore team, made the event quite meaningful. I never would have thought Tenaya could perform like she did.
Check out photos from the race at the official Swiftsure website.