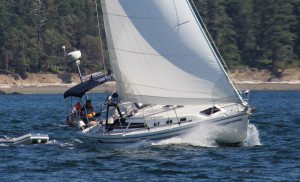 S/V Tenaya is a 2005 Catalina 34 MkII sloop outfitted for shorthanded sailing in our beautiful Northwestern waters.  Displacing 12,000 lbs., Tenaya is rigged for the unique conditions that sailors experience in our area; light (or non-existent) breezes increasing to gale-force winds, placid waters changing to rough, choppy seas, and always large tides and current flow. 
Read about the production history of the Catalina 34 here.
About the name
Tenaya is named for an alpine lake in  Yosemite National Park, in Northern California, a special place that we have always cherished and visited often.  The surface of Lake Tenaya has an elevation of 8,150 feet (2,484 m), making it one of the highest lakes in the Sierras.   The lake basin was formed by glacial action, which left a backdrop of light granite rocks, whose beauty was known to the Native Americans.
In 1868, John Muir wrote about the Tenaya Lake's beauty and timelessness in My First Summer in the Sierra.  You can download it here.
Tenaya Images